We're covering alot in this post, so I'll condense it down.
During the many years I've attended the West Coast Spring Trials, now called CAST, I often found myself noticing how certain flower color patterns had a significantly stronger visual impact. I also began to realize that those flowers that had a white center seemed to stand out from those that did not.
Conversely, I also realized that if the white detailing surrounded a color, that color was often weak and muted.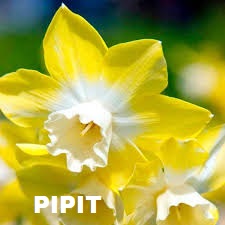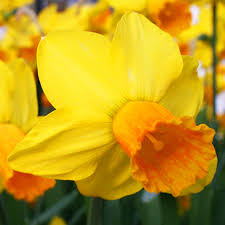 I found an opportunity to experiment with this phenomena in the daffodil trials I conducted on a street median near my home in Northern California. As a service to my city, we planted Pipit Daffodils (shown on the left) which have a lemon yellow with white center, and Jet Fire (shown on the right) which have a more golden yellow with a orange center. From the feedback I've received over the past two years, it is clear that the Pipit has had far more impact than the Jet Fire on my community.
This fall I plan to plant eight additional varieties with white centers and three varieties with white/yellow patterns. There is nothing wrong with the those colors, it is just a matter of seeing what can be improved.
Based upon the feedback I've received, I've altered my planting list for the 2020 traffic median:
Division 1 Trumpet Daffodils
Lemon Glow – Mid 14/16"
Lunar Sea – Mid 18/20"
Division 2 Large-Cupped Daffodils
Saint Patrick's Day – Mid 16/18"
Avelon – Late/mid 16/18"
D-2 Aitun Ha –
Division 5 Triandrus Daffodils
Hawera – Late 16/18"
Division 7 Jonquilla Daffodils
Canary – Late/mid 14/16"
New Day Late/mid 14/16"
Pipit- Mid 14/16"
Step Forward – Late/mid 16/18"
Many of us live in coastal climates that are continually warming, so I also want to select varieties that will perennialize under those conditions. The division 1 and 2 varieties generally have shorter lifespans but,  people like large trumpet daffodils.
_________________________
I'd like to share some photos from one of my clients out of the midwest.
"The bulbs were spectacular! During this crazy time we had the" perfect storm" of "stay at home," Easter and extended perfect weather, we had record crowds for over 5 weeks!" – Marilyn M. Brandt | VP Operations, The Lake View Cemetery Association, Cleveland, OH