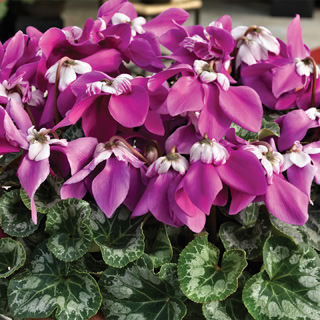 Cyclamen have become quite popular for the late fall and early winter market. They are hardy enough to plant outside for a Christmas display, in your yard, or as entry way container plants. They offer Christmas colors of red, scarlet, white, and purple. Less popular seasonal colors include pink, salmon, and rose. Please contact us directly at Paulger's Plants for updated variety availability.
If used as an entry way planting three 4" plots per 10" container should be lovely. For a larger container, 6" pots will be needed. In beds, one 6" pot per 10" square will make an impressive display. If 6" pots are not available, try using two or three 4" pots per 12" square to make an excellent display.
For most containers, the larger 6" pots make good sense for both home and commercial uses. High traffic areas in hotels and other commercial centers need the extra size of 6" pot. However, for flower beds in home settings, 4" pots will work just fine.
Series Types
Many new series have been introduced in the past few years. And while some of these new series seem promising at first, most have proven to have fatal flaws that lead to a shorter duration. The Cyclamen standards are standards because they performed well in the three critical areas: the plug tray, the greenhouse, and on location. In other words, germination rates, crop time, and field performance. The seed is quite expensive, so producers can't afford to experiment with varieties that have lower productivity rates. Others have longer crop times, leading to lower profits for the plant producer. And poor field performance mean higher replacement costs for landscaper contractors.
For 6" Cyclamen, I recommend Halios Series and Sierra Series, which has been around for many years and delivers in all the important areas just mentioned.
The Latinia Series is a smaller plant that has flowers almost as large as Sierra Series. They are suitable for 4 "bedding plant material. They are not vigorous enough for use as 6" potted plants.
For intermediate size plants for 3" or 4" pots, the Laser Series also meet all three criteria listed above. These are typically found in home improvement centers and box stores.
Cyclamen are classified as miniature, intermediate and standard size plants. As plant size goes down, hardiness goes up.  The Laser Series are smaller, hardier plants and so are recommended for bedding in more difficult locations. And it stands to reason that more plants per square foot of bed space will be needed to cover the same area.
A more recent series to show some staying power is the Fleur in Vogue Series. This is a large plant that has a stunning inverted Calyx. It is available in Pink, Purple, and White. All have a high contrast color combination and a dramatic look that catches the eye. They work well as an entry way container plant, but could also be used as a bedding plant in some locations. The Fleur en Vogue purple is pictured as the lead image.
To read about the Mammoth Series, a wonderful Winter to Spring variety, please visit my website HERE.
Please contact me for more information about the current Cyclamen Varieties available today.